Resident Neighborhood Partnerships
The Brodsky Organization and Enclave at the Cathedral are pleased to partner with local vendors to offer exclusive discounts to our residents. Please inquire about our Resident Neighborhood Partnership Group.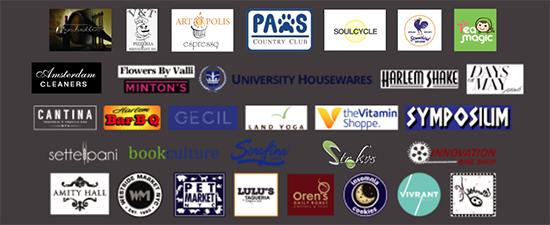 These include: Amity Uptown, Amsterdam Cleaner, Artopolis Espresso, Book Culture, Cantina 1838, Days of Mays Florals, Flowers by Valli, Harlem BBQ, Harlem Shake, Harlem Tavern, Innovation Bike Shop, Insomnia Cookies, Kitchenette, Koronet Pizza , Land Yoga, Lulu's Taqueria, Manhattan Valley Wine and Spirits, Minton's, Oren's Daily Roast, Paws Country Club, Serafina Harlem, Settepani, Sleepy's Mattress, SoulCycle, Strokos Gourmet Deli, Symposium Greek , Tea Magic, The Cecil, The Pet Market, University Hardwares, University Housewares, V&T Pizza, Vitamin Shoppe, Vivrant Beauty, and Westside Market.